60-Days Returns
Free US Shipping
Instagram Reviews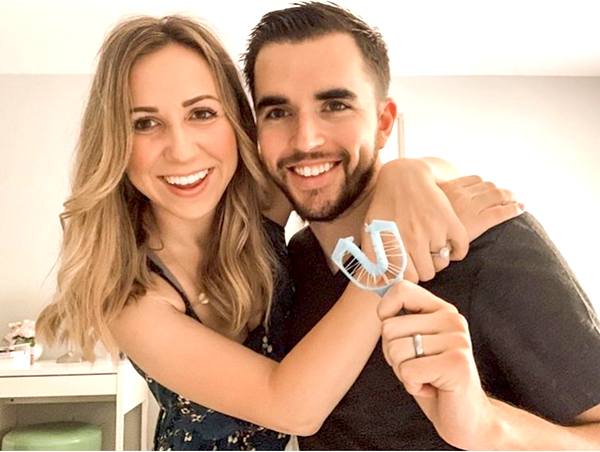 @sunsetandbubblyblog ★★★★★
"This travels well and makes it easy to floss on the go!.My husband and I both love it!"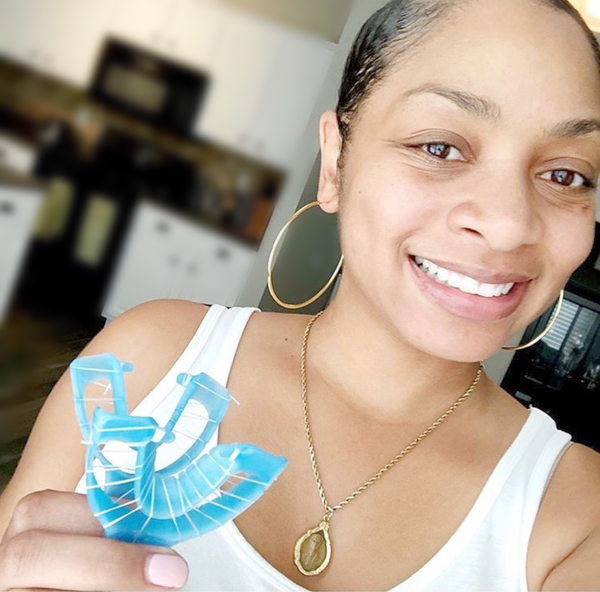 @_kellikelley ★★★★★
"My mouth just feels cleaner, I love the gum gel. I felt the difference in my gums after only 2 weeks of nightly use"
@k8_andhearts ★★★★★
"I know I need to floss, this just makes it faster and my mouth feels cleaner. Not bad for a 15-second job!"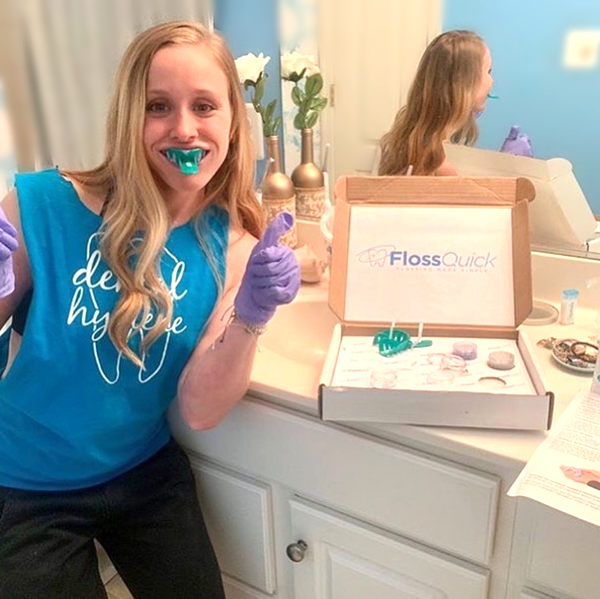 @rdhdara ★★★★★
"My Starter Kit came fast and was easy to do! I received my custom device one week later and have been using it consistently since"
Clinical Trials Results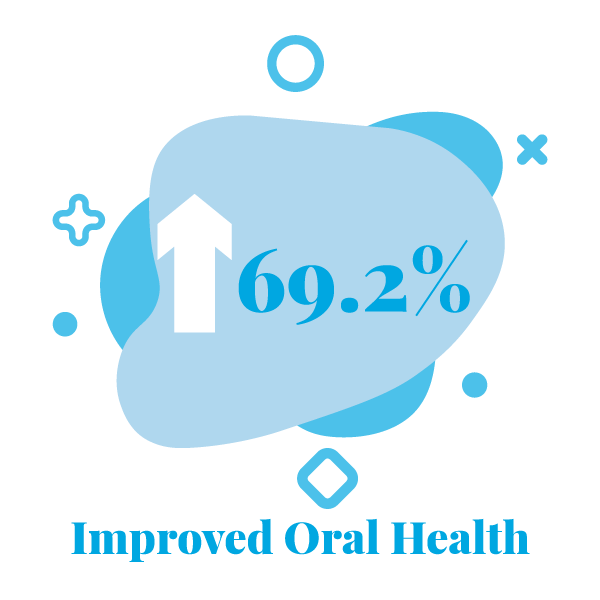 Improve Your Oral Health
Patients reported reduced unusual redness in their gums and improved overall oral health.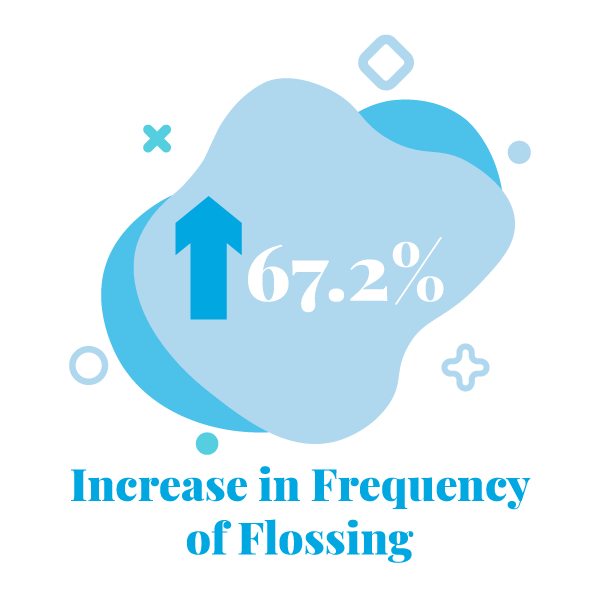 Frequency of Flossing
Patients reported an increase in flossing frequency.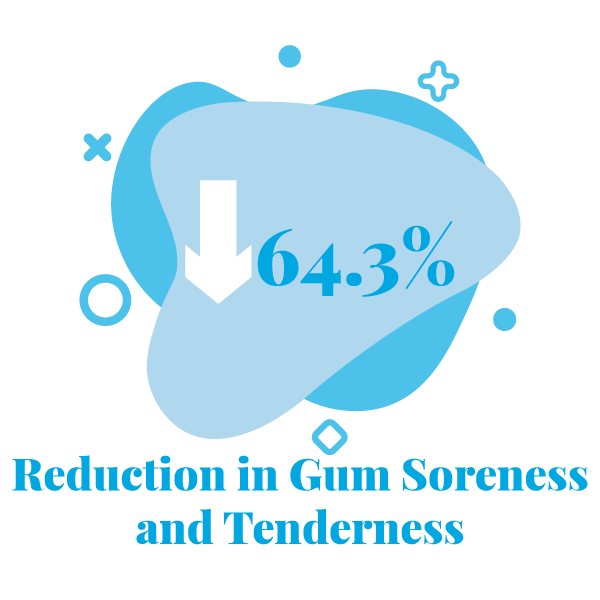 Gum Soreness and Tenderness
A reduction in gum soreness and tenderness after 4 weeks of using FlossQuick.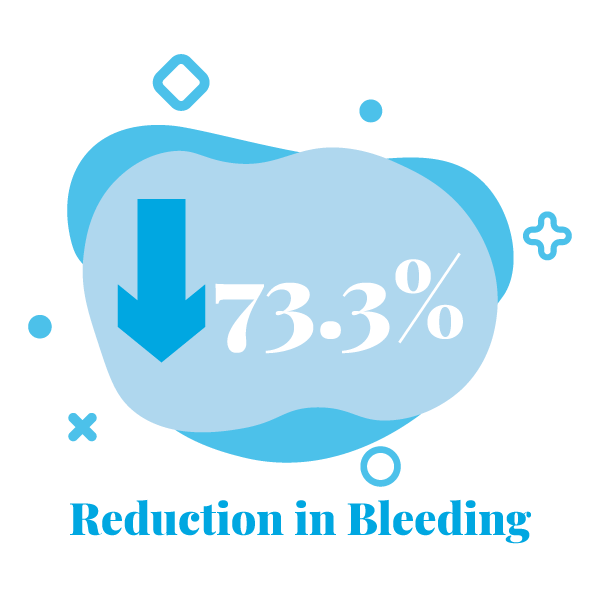 Reduction in Bleeding
Patients reported a significant reduction in gum bleeding while flossing.
Healthy Gums Done Easy
We send you an easy-to-use home dental impression kit with instructions on how to easily create dental impressions. It's important our lab knows the exact dimensions of your teeth and mouth. Send them back in the postage prepaid envelope and the lab digitizes your impressions using CAD software and custom designs flossing trays that perfectly fit the spacing, curvature, depth and width of your mouth.
Your trays are custom designed and printed on commercial grade 3D printers using environmentally friendly medical grade PLA plastic, the same material used in the manufacture of medical devices. The trays are durable, guaranteed against breakage and will last for years. One custom upper and one custom lower tray is included.

Floss is reusable (similar to your toothbrush) if properly rinsed and cleansed using warm water or mouthwash. Most customers use FlossQuick 15 - 20 times before replacing the floss, provided that floss is not frayed or broken. Re-threading FlossQuick is easy, normally taking less than 30 seconds per tray.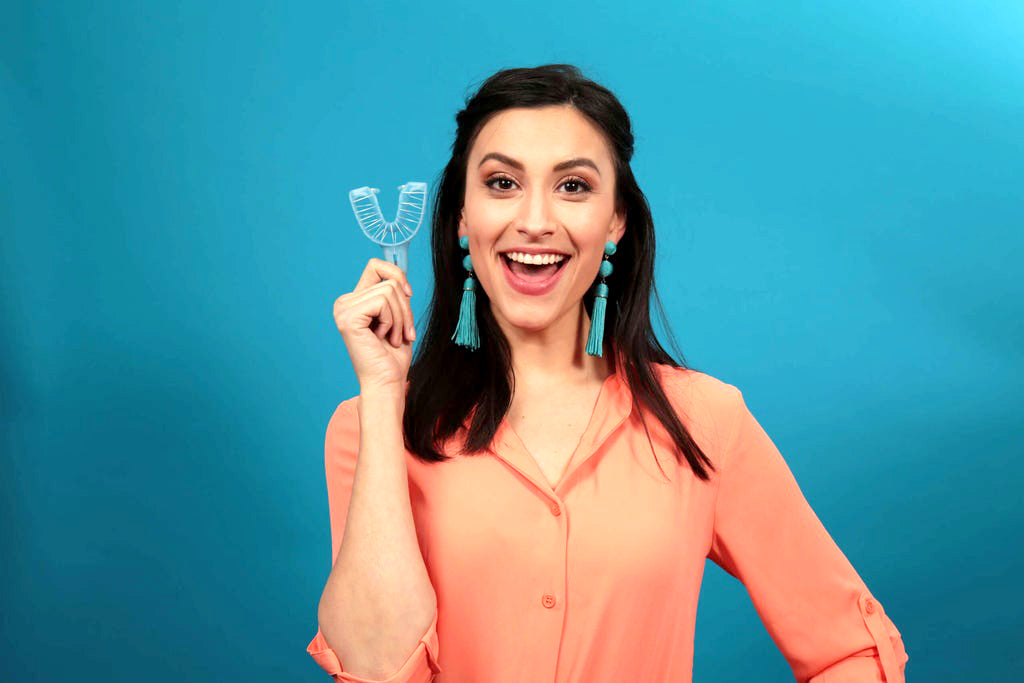 Reviews
The Easiest Way to get Clean Teeth and Protect your Gums
I could not believe how easy the process of making my customized FlossQuick plates were. I was a little apprehensive but when I got my customized plates back they fit perfectly and it took me less than 30 seconds to floss both my bottom and top teeth. As a busy mom this appeals to me on all the levels!
Easiest way to floss and treat gums!
Cool product, fits well in my teeth and makes flossing easy and my gums feel better after using Flossquick. Thanks!
Been Enjoying Easy Flossing.
I received the devices and have been enjoying them for a few days now. They are so much faster than the normal way of flossing, great product!
These save me so much time!
I love being able to floss my teeth in 30 seconds, and I LOVE that you can re-use these 10-15 times without having to re-string them because that part seems a little intimidating haha. This makes my teeth feel like they got a good clean, but I do usually go back and get the back teeth with floss because that's the one area that I feel like these could clean a little deeper. All in all it still saves me time AND I get to use less plastic overall which is a huge win in my eyes!
Next Level Flossing
I could never find the time to floss, such a manual process. Not anymore though! This product makes flossing easy and quick. They set you up with a custom made FlossQuick flosser that fits your teeth exactly, easy to use, great product!
LOVE IT!
It's so easy and such a good idea! i don't like to floss but this is so easy especially on the go! such an good company and shipping is quick
FAQs
What are the Benefits of Using GumGel?
Fresher breath, deeper clean, simple, easy flossing and healthier gums are a few of the benefits of using FlossQuick with GumGel on a regular basis. Clinically tested and proven effective in combating gingivitis, gum soreness, bleeding & receding gums and increasing flossing frequency.
Neem oil, Clove oil, Peppermint and Lavender oil (essential oils) all have gum and oral healing and conditioning qualities. 
Neem oil is rich in antioxidants and helps to boost the immune response in the gums and tissues of the mouth. Neem also offers a good remedy for curing mouth ulcers, tooth decay and acts as a pain reliever in toothache problems, according to the US National laboratory of Medicine and the National Institute of Health. 
Clinical research indicates that Clove oil can relieve tooth pain and bad breath, as well as help reduce gum disease! Clove oil also has the natural ability to restrict the development of bacteria and can help fight mouth and throat infections.
Research has found that Peppermint oil is exceptionally powerful for fighting oral pathogens and killing common bacteria that can lead to cavities and gum disease.
GumGel also contains other essential oils and herbal ingredients that have been shown to promote cell vitality by independent laboratory studies. Soothing herbs, well-known for their cleansing actions, are combined with CoQ10, Folic Acid, Oregano, Cinnamon and Clove to promote tissue and gum wellness. 
How Often Should I Use GumGel, and How Much?
Daily use of FlossQuick with GumGel, in addition to brushing regularly, elevates your oral hygiene and gum health to optimal levels. GumGel is specially formulated to combat gum disease, treat sore or bleeding gums and promote enhanced gum health.
Place a small amount of GumGel on each strand of floss and insert your FlossQuick device (upper and lower separately) gently in your mouth, between your teeth and into your gums. Gently move the devices up and down and back and forth several times to thoroughly floss your teeth, and for optimal cleaning and conditioning of your gums.
What are the Ingredients in GumGel?
Water, Glycerin, Neem Oil (Azadirachta indica), Clove Oil (Syzygium aromaticum), Mentha Piperita (Peppermint) Oil, Sodium Bicarbonate, Hydroxyethylcellulose, Xanthan Gum, Calendula Officinalis Flower Extract, Echinacea Purpurea Flower/leaf/stem Extract, Chamomilla Recutita (matricaria) Flower Extract, Smilax Aristolochiaefolia Root Extract), Centella Asiatica Extract (gotu Kola), Zanthoxylum Americanum Bark Extract (prickly Ash Bark), Origanum Vulgare Leaf Oil (oregano), Lavandula Angustifolia (lavender) Oil, Eugenia Caryophyllus (clove) Bud Oil, Folic Acid, Olea Europaea (olive) Leaf Extract, Thymus Vulgaris (thyme) Flower/leaf Oil, Eucalyptus Globulus Leaf Oil, Cinnamomum Zeylanicum Bark Oil, Ubiquinone (coq10).